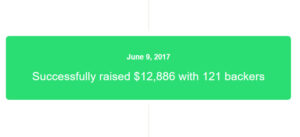 Here is a quick update. The campaign ended on Friday at 5:00pm with $12,886 raised, over 250% of our goal. We are pleased beyond our expectations.
We are finishing up the surveys and will send them out to all of our backers by Tuesday the 13th. The survey will give you a way to give us your contact information, shipping address and pen (reward) preferences if your level of support had color or style options.
We will be posting more updates here to keep you fully informed of our progress toward delivering the pens.
Thanks again for your support,
John & Kristin Noveske