Bona Fide Products
Bona Fide Products is a company created by John & Kristin Noveske. The mission of our company is to design and manufacture personal EDC or Everyday Carry products that can make our daily activities more enjoyable and efficient.
Our Name
Bona Fide is Latin for 'in good faith'. Bona translates to good and Fide means faith. Bona is where we get other words like bonus and the spanish word bueno. Fide translates to faith or faithful and is where we get the words fidelity, fiduciary and fidelis. In the American usage, Bona Fide is defined as authentic, genuine, trustworthy and reliable. We feel this name represents the principles we want in our company.
Our Logo
The circle with cross-hair symbol is a Fiducial Mark sometimes called a Truth Mark. It is an optical device used in the corners and mid-points of  aerial photography cameras used in topographic map making. Because Kristin and I met and later married while working at our aerial mapping company, we think this symbol has a special meaning for us and further depicts our principles.
Here at our website, BonaFideProducts.com we will display, share and offer to you all of our unique products that we love and find useful to collect and/or carry every day (for your EDC)! We hope you will utilize and enjoy all of them as we do!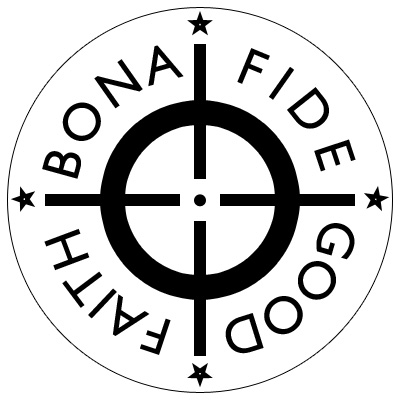 John Noveske
At the age of 18, I started as an engineering aide working on the design and construction of a hydroelectric power plant in central California.
Since then I was president and owner of an aerial mapping company that provided topographic maps for engineers and the military.
I have been a computer programmer all my life. In the first 20 years of my career, I wrote programs for civil engineering and topographic mapping projects.  I  have spent the last 20 years developing custom website applications. Over the last decade I have also gained experience in manufacturing processes through my son, John Noveske who created Noveske Rifleworks.
With the Bona Fide Products brand, I am excited about creating a line of personal EDC items that are made in America with a 'no compromise' standard of quality.
I have enjoyed the companionship of working closely with my wife, Kristin, throughout all of our endeavors.
Kristin Noveske
I graduated from Fresno State University in California with a BA in Geography and worked for a mapping/photogrammetry company, Aerial Photometrics, for several years using CAD for digital mapping along with photo enlarging of aerial photography in the photo lab.
I then started an antique and collectibles business with my husband, John, in Grants Pass, Oregon. With the growing popularity of the internet, we created our own website for our shop to make a presence online. This work turned into our own website design and custom programming company, Internet Mainstreet, where we create websites for multiple types of businesses.
While maintaining the websites of a variety of small manufacturing and machining companies, including our son's business, Noveske Rifleworks (Noveske.com); we became very interested in manufacturing our own product, based on an  interest in collecting pens and other writing instruments. Thus, we designed and created the Bona Fide Pen.